Click to Play
Thursday, Mar 21, 2013
rants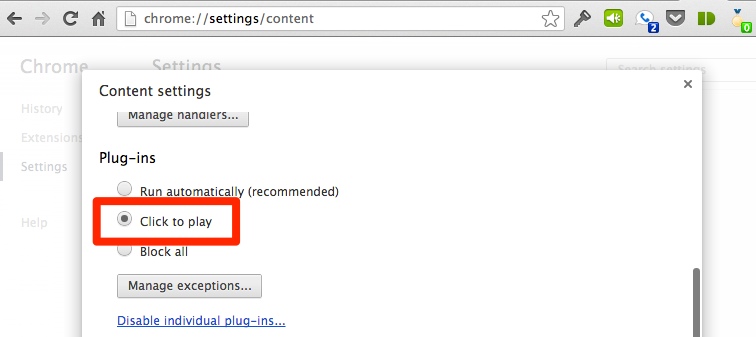 Even when think you are being safe, browsing the web can be a dicey affair. Websites use Flash to initiate "drive by downloads" or to track you sureptitiously. More worrisome is the constant stream of Java exploits (37 so far this year and it's only March). Even mainstream sites can get hacked and end up serving malicious code to your browser. However, there is an easy solution supported by all major browsers and it's called Click to Play.
Click to Play temporarily disables all your browser plugins. When a website embeds a Flash file or a Java applet, you will see a grey, clickable rectangle. You can ignore it or click inside the area to enable the content on just that page.
Not only does this keep you safer, but it will also speed up web browsing because Flash and Java contents are not loaded automatically. And you can stop worrying about a plugin crashing your browser.
So here's how to enable it in your browser of choice.