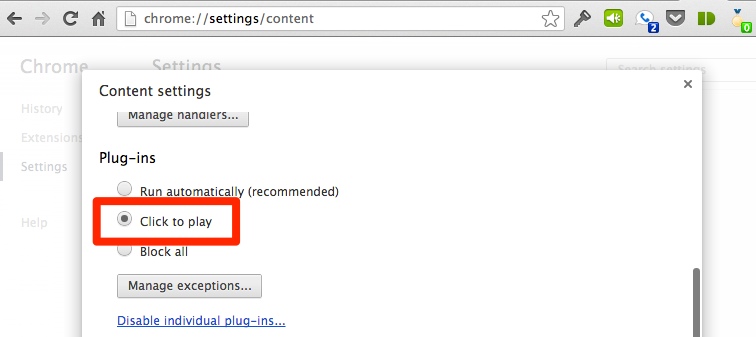 Even when think you are being safe, browsing the web can be a dicey affair. Websites use Flash to initiate "drive by downloads" or to track you sureptitiously. More worrisome is the constant stream of Java exploits (37 so far this year and it's only March). Even mainstream sites can get hacked and end up serving malicious code to your browser. However, there is an easy solution supported by all major browsers and it's called Click to Play.
Click to Play temporarily disables all your browser plugins. When a website embeds a Flash file or a Java applet, you will see a grey, clickable rectangle. You can ignore it or click inside the area to enable the content on just that page.
Not only does this keep you safer, but it will also speed up web browsing because Flash and Java contents are not loaded automatically. And you can stop worrying about a plugin crashing your browser.
So here's how to enable it in your browser of choice.
Google Chrome

To enable the Click to Play feature in Google Chrome, type chrome://chrome/settings/content in the address bar (where URLs normally go) and click Enter. This is a little tricky because it doesn't immediately appear like a scrollable page, but it is. Scroll down until you reach the plugins listing there. Select Click to Play instead of Run automatically. See screenshot above.
Mozilla Firefox

Mozilla is slowly updating Firefox so that Click to Play is the default behavior for most plugins except the latest version of Flash. Making Click to Play the default is the right idea, but if you don't want to wait then you can turn on Click to Play right now. Type about:config in the address bar and click Enter. Search for "Plugins.click_to_play" and double-click it to change it from false to true.

Microsoft IE

The instructions for Internet Explorer are a little trickier and depend on whether you're using IE9 or IE10. You really should be using Firefox or Chrome, so if you insist on using IE I will just point you towards this page which can help you enable Click to Play.
So what are you waiting for?

Go enable Click to Play right now.