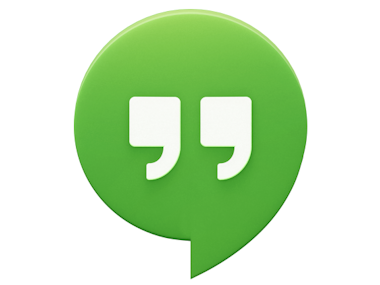 Nicole is still hanging onto her grandfathered non-unlimited text messaging plan and I've been using Google Voice for a while to avoid paying the outrageous cost** of SMS. As awesome as Google Voice is, it has its annoyances and I was never fully happy with the messaging experience.
Unsurprisingly, the person I text most often is Nicole. She recently got a new iPhone 5 and I took this as an opportunity to try something different. So we've been using Google Hangouts for the past few weeks and it's been surprisingly awesome.
First and most importantly, I was worried how long it would take for messages to be delivered. But I haven't found any delay, especially when compared to Google Voice. But what's really made me a convert is the added functionality. Hangouts replaces Google Talk, which means that when I'm logged into my computer, messages from Nicole get delivered to my computer. When I'm out and about, messages get delivered to my phone. And I always have the full history of all my chats, both on my phone and on the web.
And the pictures, oh the pictures. Having lived without multimedia messaging (MMS) for so long (Google Voice doesn't support it), I hadn't realized how much fun it is to send pictures back and forth. A picture really is worth 1K words as they say. I haven't yet tried the video calling which is a much hyped feature, but I hear it's awesome too.
Rumors on the internets claim that Hangouts will eventually replace Google Voice, in which case I'll be very happy since that will bring phone calling into the mix. But in the meantime, Hangouts is definitely my new favorite messaging app.
**AT&T charges $0.20 per text message if you don't sign up for an unlimited texting plan. A text message is just 160 bytes of data. If you multiply that out, text messages cost you $1,310.72 per megabyte. Keep in mind that for mobile data, AT&T only charges $2 per megabyte when you don't have a data plan, and less per MB if you do.