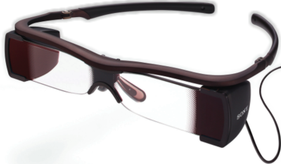 As someone with a deaf family member, I know how inaccessible movie theaters have been to people with hearing loss. In the past, some theaters provided boosted audio to people with mild hearing loss, but even that distorted the sound and didn't work well. Other theaters provided bulky devices that rendered captions, but they were not in your line of sight and it was so bright as to distract other patrons. Neither was a good solution.
Considering what Google has done with their Google Glass product, I imagined that a much simpler set of glasses could be created to provide captions for people with hearing loss. I always wondered why no movie theater chain was doing this. The first theater to do so would gain extra viewership as well as goodwill, and maybe loyalty, from the deaf community.
Well it looks like this is finally becoming a reality, and it's awesome. Regal Cinemas plans to distribute new closed-captioning glasses from Sony to more than 6,000 screens across the country by the beginning of summer and hopes to have them in all their theaters by the end of the year. As you can see from the picture (right), the glasses look kind of like bulky 3-D glasses except these are used for captioning, not 3D. The captions are projected onto the glasses and appear to float about 10 feet in front of the user at the bottom of their field of vision. In ddition, the glasses also provide "descriptive narration" which describes the action on the screen for the visually impared and they can also boost the audio levels of the movie for those who are hard of hearing.
Hopefully these will work well and a whole new group of people will be able enjoy going out to the movies. This might actually make it worth paying $12 to see a movie in the theater.
Check out the explanatory YouTube video from Regal Cinemas below, complete with captions of course: